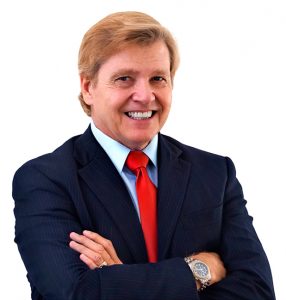 Dr. Horton is a Licensed Clinical Psychologist, a Masters Certified Addiction Professional, a Certified Master Trainer of Hypnosis and NLP. He possesses over 20 years of experience in each field. He is considered, by many, to be the World's leading NLP and Hypnosis trainer and one of the top three hypnotists. Dr. Horton was one of the few non-law enforcement personnel to be invited and attend the coveted FBI Crisis/Hostage Negotiation Course held at the FBI academy in Quantico, Virginia.
In his clinical career, Dr. Horton has served as the Director of a Florida State prison, Director of the Outpatient Addiction Unit at Charter Hospital. He also worked for Treatment Alternative for Street Crimes and Keeping Kids in Safe Surroundings. He was the Regional Director for The Governor's Commission for A Drug Free Indiana and was also the owner and operator of Hypnosis clinics in Florida and Indiana.
Dr. Horton authored the ground-breaking book: "The Alcohol and Addiction Solution" which is changing the field of addiction treatment. His other noteworthy books include: "Mind Control, How to Get Others to Do What You Want", "Primary Objective, Neuro-Linguistic Psychology and Guerrilla Warfare", "Quantum Psychology", "NLP 4 $ales", and "The Secret Psychology of Persuasion". He is the Co-Author of "Selling Yourself to Others: The New Psychology of Sales" and his articles are regularly featured in The Journal of Hypnotism, the country's largest Hypnosis publication.
He is the featured speaker at many conferences all over the world teaching addiction treatment, Hypnosis, and NLP. He has won more awards in the field of Hypnosis than anyone from independent organizations including The National Guild of Hypnotists, The International Association of Counselors and Therapists, The International Medical and Dental Hypnotherapy Association, The Midwest Hypnosis Conference, etc.
He has hypnotized over 100,000 people in his career! He has led trainings in Hypnosis and NLP all over the world.
He is returning to the field of addiction treatment as it is his passion and love. His primary mission is to help others become free of addictions and take control of their lives. The LiveFree Online Addiction Recovery Training was developed with that in mind. He has brought together everything in one easy to follow application that you can do from your home. Getting better where you are is the key to long term recovery!
On top of being the Creative Protocol Director for LiveFree, he also does clinical work with traumatic brain injuries at the TBI Center in Tarpon Springs and works with Veterans issues.
He lives in Venice, Florida with his wife of 27 years and still does Karate and theater in his spare time. Dr. Horton is a Black Belt in Shoto-Kan and Ryu Kyu Kempo Karat. He won numerous tournaments after overcoming a devastating injury where he used Hypnosis and NLP to speed his recovery. He has also been published in multiple Martial Arts Journals.